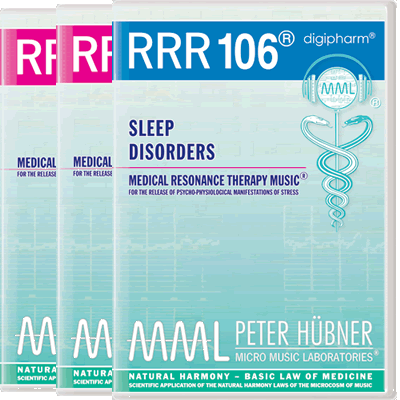 "Best Scientific Preparation against STRESS
four times more effective than conventional drugs in the reduction of physiological manifestations of stress
eight times more effective than conventional drugs in the improvement of the psychological status
without any side effects"
WHO World
Health
Organization
as acknowledged on the conference of the World Health Organization "Society, Stress & Health" at the Academy of Sciences in Moscow
FIRST GENERATION
Medical Resonance Therapy Music®
Sleep Disorders

The program Sleep Disorders is designed for people suffering from insomnia & other sleep disorders related to stress.

The basis program Sleep Disorders consists of the following 3 CDs:







A Digital Studio Recording Under the Artistic, Scientific and Technical Direction of the Composer and Musicologist.

Total Playing Time: 3h 21'21"
Buy these titles as Download in

CD Quality




(16 Bit, 44.1 KHz, wav-format, filesize 2074.2 MByte, 3 Downloads)

48.90 €
Buy these titles on CD – 3 CDs

70.20 €
Free shipping on all orders over 108 EUR!